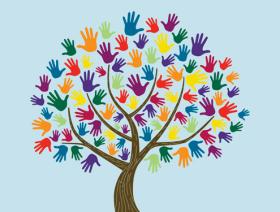 Diversity in Medicine Matters: The Benefits of a Diverse Workforce
With the racial and political turmoil surrounding our culture and healthcare environment, it continues to be essential to confront longstanding health care disparities. Improving workforce diversity is one strategy to improve patient medical outcomes and reduce health care disparities. Recruiting, retaining, and sustaining a diverse racial and ethnic workforce within health care is vital for our population's well-being. 
This webinar of the MMS 2020 Annual Oration (recorded December 1, 2020) discusses and explores what health care leaders, physicians and other health care professionals gain from a firm understanding of cultural competence, racism, and the need to support and retain a representative workforce to provide optimal effective care for patients from different backgrounds. Successfully building a culture of inclusion and belonging across health care requires commitment, accountability, and transparency at all levels of the organization.
History of the Oration:
The MMS Annual Oration dates back to 1804 when Dr. Isaac Rand delivered his dissertation entitled, On Phthisis Pulmonalis, and the Use of the Warm Bath. For more than 200 years, MMS orators have addressed a wide spectrum of topics germane to the evolving practice of medicine.
Target Audience
This activity is designed for physicians, physicians-in-training, and other health care leaders, professionals and students.
Learning Objectives
Upon completion of this activity, learners will be able to:
Describe the benefits to patients, medical staff, and employers of a diverse workplace to achieve an inclusive working environment and better health outcomes
Address racial, cultural, system, and other barriers that may arise as your organization works towards a more diverse workplace 
Recommend actions/opportunities for all individuals to promote diversity and eliminate racism within their practice or healthcare setting
Format & Estimated Time to Complete: This activity features a 1-hour video recording, resources, a tech assessment and an evaluation. 
Exam/Assessment: Completion of the tech assessment is required to receive AMA PRA Category 1 Credit™. 
Disclosure Statement:
All individuals in control of the content for an MMS accredited continuing education activity must disclose all financial relationships with ineligible companies. For this activity, individuals in control of content did not disclose any financial relationships with ineligible companies.
Activity Term:
Original Release Date: December 16, 2020
Review Date (s): N/A
Termination Date: December 15, 2023
Opening Remarks:


David A. Rosman, MD, MBA
President, 2020-2021, Massachusetts Medical Society
David A. Rosman is a board-certified radiologist and associate chairman for radiology at Massachusetts General Hospital. He is also an instructor in radiology at Harvard Medical School. Dr. Rosman is committed to global health and to addressing disparities in health care. He started the first-ever radiology residency in Rwanda. Rosman wrote the curriculum and established the program while practicing radiology and living in Rwanda with his family for two years. He and his family return annually to teach – he in radiology and his wife, Dr. Samantha Rosman, in pediatrics. 
A member of the Medical Society since he was a medical student in 1998, Dr. Rosman has served the organization in a number of capacities. He is currently a member of the Society's American Medical Association (AMA) delegation and has served as a member of the Board of Trustees, Vice Chair of the Medical Student Section, a member of its Resident and Fellow Section, and a member of the committees on Finance and Ethics and Grievances. Active with other medical organizations, Dr. Rosman has served on the Board of Trustees of the AMA and as a Delegate to the AMA from the American College of Radiology (ACR). He also served as the Speaker of the Resident and Fellows Section of the AMA as well as the Speaker of the AMA's Young Physicians Section. He is currently Chair of the ACR's Radiology Integrated Care Network. He is also a member of the Executive Committee of the Massachusetts Radiological Society. 
Orator:




Joan Y. Reede, MD, MD, MPH, MS, MBA 
Dean for Diversity and Community Partnership; Professor of Medicine, Harvard Medical School; Professor of Society, Human Development and Health, Harvard T.H. Chan School of Public Health
Dr. Reede has a lifelong passion for and experience with mentoring and supporting diversity in the biosciences. She is Harvard Medical School's first Dean for Diversity and Community Partnership, responsible for the development and management of a comprehensive program that provides leadership, guidance, and support to promote the increased recruitment, retention, and advancement of underrepresented minority faculty. She also serves in a number of other positions, including Faculty Director of Community Outreach at HMS, Professor at HMS and at Harvard's T.H. Chan School of Public Health, and Assistant in Health Policy at Massachusetts General Hospital.
While at HMS, Joan created more than 20 diversity and leadership-focused programs, including founding the HMS Minority Faculty Development Program and the Biomedical Science Careers Program. Before joining Harvard, she served as the medical director of a Boston community health center and worked as a pediatrician in community and academic health centers, juvenile prisons, and public schools. She has held a number of advisory roles including serving on the Health and Human Services Advisory Committee on Minority Health and the Secretary's Advisory Committee to the Director of NIH. Dr. Reede graduated from Brown University and Mount Sinai School of Medicine. She holds an MPH and an MS in Health Policy Management from Harvard T. H. Chan School of Public Health, and an MBA from Boston University.
Accreditation Statement
The Massachusetts Medical Society is accredited by the Accreditation Council for Continuing Medical Education (ACCME) to provide continuing medical education for physicians. 
AMA Credit Designation Statement
The Massachusetts Medical Society designates this enduring material for a maximum of 1.00 AMA PRA Category 1 Credit™. Physicians should claim only the credit commensurate with the extent of their participation in the activity.
This activity meets the criteria for the Massachusetts Board of Registration in Medicine for risk management study.
This activity satisfies 1 CME credit toward the Massachusetts Board of Registration in Medicine's requirement on the topic of implicit bias in health care.
MOC Approval Statement
Through the American Board of Medical Specialties ("ABMS") ongoing commitment to increase access to practice relevant Continuing Certification Activities through the ABMS Continuing Certification Directory, this activity has met the requirements as a Lifelong Learning CME Activity (apply toward general CME requirement) for the following ABMS Member Boards:

Allergy and Immunology
Anesthesiology
Family Medicine
Medical Genetics and Genomics
Nuclear Medicine
Physical Medicine and Rehabilitation
Preventive Medicine
Psychiatry and Neurology
Radiology
Thoracic Surgery
Urology
National Commission on Certification of Physician Assistants (NCCPA)
Physician Assistants may claim a maximum of 1.00 Category 1 credits for completing this activity. NCCPA accepts AMA PRA Category 1 Credits™ from organizations accredited by ACCME or a recognized state medical society.
Available Credit
1.00

AMA PRA Category 1 Credit™

1.00

Participation
To participate in this CME activity:
(1) review the learning objectives, disclosure statement, and accreditation statements;
(2) navigate through all course pages and/or view video(s);
(3) complete exams/assessments and evaluation;
(4) be sure to CLAIM your credit; and
(5) view/print certificate.
If you need to stop in the middle of a course, you may resume the course at any time to finish.
Required Hardware/software
This platform works with most modern web browsers (e.g., Chrome, Internet Explorer, MS Edge, Safari).
A PDF reader, such as Adobe Acrobat Reader, will be required to participate in some courses.